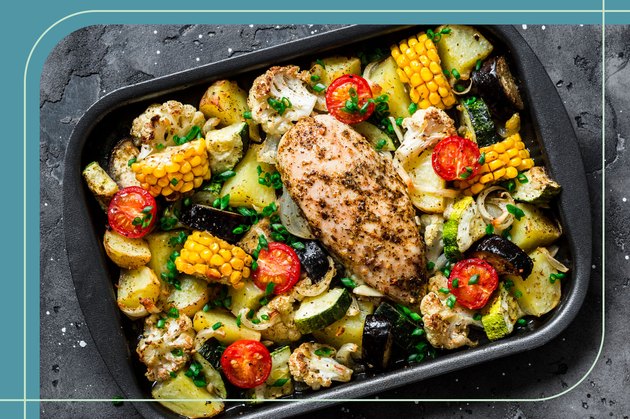 You shouldn't have to fit into a diet and fitness plan. The plan should have to fit you. Click here for all the details on our January challenge.
It's the classic weeknight dinner dilemma: You don't have the energy to use and then wash a mountain of pots and pans, it's too late to start up the slow cooker and you're dangerously close to being on a first-name basis with the pizza delivery person. Have no fear, the humble sheet pan will save the day!
Not only will these one-pan meals save you time and energy, they're endlessly versatile. "What can you ​not​ put on a sheet pan?" says Maya Feller, RD, CDN, owner of Brooklyn-based Maya Feller Nutrition. The customizable nature of a sheet-pan dinner means she's able to easily create a delicious, nutritious meal or batch cook and refrigerate leftovers for later in the week.
Balance the macronutrients on your sheet pan like you would on a dinner plate, Feller says. That means a heavy emphasis on vegetables with a moderate portion of protein and healthy fat — which, for sheet-pan dinners, usually comes in the form of extra-virgin olive oil.
There are two important components to keep in mind for a perfectly cooked pan of food: consistency and timing. Cut your ingredients into consistent sizes to help ensure even cooking, and consider how long it will take the various items on your sheet to cook through. Keep scrolling for all the details.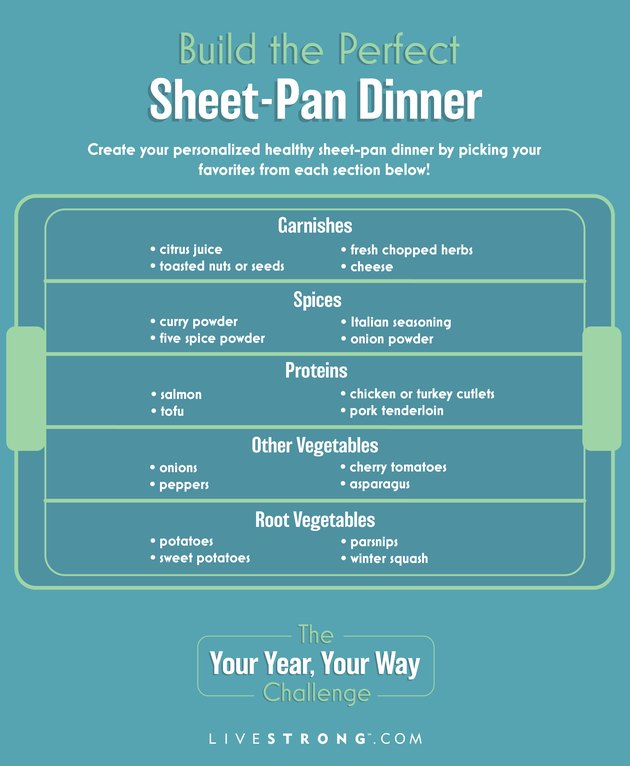 Step 1: Start With Root Vegetables
Root vegetables are the heart of a sheet-pan meal. Many also fall into the more widely known starchy veggie category. While starchy vegetables often get a bad rap, they're actually loaded with fiber and other nutrients.
Feller's favorites are sweet potatoes, beets, parsnips and butternut squash, drizzled with extra-virgin olive oil and sprinkled with fresh thyme and rosemary. "I really love the taste, and I love the color combination all together," she says. "I eat as much with my eyes as with my stomach, so all the colors together are a visual cue that I'm getting a wide variety of nutrients."
Aim for 1/4 pound per person, or 1 pound to serve four. Cut root veggies into uniform pieces — approximately 1/2-inch works best. Choose from any of the following:
Potatoes
Sweet
potatoes
Beets
Carrots
Parsnips
Turnips
Rutabaga
Radishes
Winter
squash
Tip
To make your sheet-pan meal, you'll need a half-size sheet pan (we like the Nordic Ware 2-Pack, $30.46, Amazon.com), which measures 18 by 13 inches with 1-inch-high sides. Keep aluminum foil and parchment paper on hand to line the pan to make clean-up even faster.
Step 2: Add Other Vegetables
To complete your rainbow of colorful veggies, pick more produce from the non-starchy vegetable category.
Feller's favorites are Brussels sprouts, onions, garlic or cauliflower with curry powder or cumin. Aim for 1 cup per person, or 4 cups to serve four. If you're using dark leafy greens, up the amount to 1 1/4 cups per person, or 6 cups for four.
The following vegetables are included in this category:
Cherry
tomatoes
Green
beans
Broccoli,
cut into florets
Cauliflower,
cut into florets
Asparagus,
halved
Mushrooms,
halved
Brussels
sprouts, halved
Onions,
cut into 1-inch wedges
Peppers,
sliced into 1-inch wedges or strips
Summer
squash, cut into 1-inch pieces
Dark
leafy greens, chopped
Want more healthy meal ideas? Download the MyPlate app and get simple, tasty meals and snacks tailored to your nutrition goals.
Your choice of protein determines how long you'll need to cook your sheet-pan meal. As a general rule of thumb, checking the internal temperature will guarantee your food is cooked through. Grab a meat thermometer and look out for the below:
Poultry: 165 degrees Fahrenheit
Beef: 155 degrees Fahrenheit
Pork: 145 to 155 degrees Fahrenheit
Seafood: 145 degrees Fahrenheit
Aim for 4 to 5 ounces per person, or approximately 1 pound for 4 servings. These proteins work best in a sheet-pan meal:
Poultry:
chicken or turkey cutlets or boneless, skinless chicken thighs
Pork:
boneless pork chops or pork tenderloin
Beef:
skirt steak
Sausage
Fish:
thicker fillets such as cod, salmon, halibut or arctic char
Shrimp,
peeled and deveined
Tofu
or tempeh, cut into 1-inch-thick slices
Step 4: Season With Spice Mixtures
Experiment with whatever flavors you like. Remember, it's easier to start with a lower amount of spices and seasonings and add more as you go, because you can't get rid of it once it's there.
Look to use around 1 to 3 teaspoons total, depending on your taste preferences, of any of these options:
Chili powder
Curry powder
Five spice powder
Herbs de Provence
Everything bagel seasoning
Italian seasoning
Onion powder
Garlic powder
Ground:

Coriander
Cumin
Ginger
Turmeric

Dried:

Oregano
Basil
Rosemary
Sage
Thyme
Tip
In addition to spices, be sure to include 1/2 to 1 teaspoon of kosher salt and a pinch of ground black pepper throughout the cooking process.
Get Cooking!
Preheat your oven to 425 degrees Fahrenheit. Line your sheet pan with foil or parchment paper.
Toss root vegetables with oil, salt and pepper. Spread evenly on the sheet pan in a single layer. Place the pan in the oven and roast for 15 minutes, then remove.
Toss other vegetables with oil and mix with root vegetables.
Sprinkle spices on all vegetables and your protein.
Add a pinch of salt and pepper to your protein. Place the protein on the vegetables or nestle it in between vegetables if there's room.
Place the pan in the oven and cook until the protein is cooked through and the vegetables are tender, approximately 10 to 20 minutes more, depending on the protein.
Add garnish and serve.
Every dish can use a little something special to add a pop of flavor, color and texture. Here are some ideas to get you started:
Spritz
of citrus juice

Lemon
Orange
Grapefruit
Lime

Spritz of vinegar
Toasted
nuts or seeds
Fresh
chopped herbs
Cheese

Parmesan
Goat cheese
Feta
Put It All Together in These Recipes