Lenscap Photography/Shutterstock
McDonald's doesn't have the healthiest reputation — Big Macs and super-sized fries aren't exactly nutritionally dense and doctor-approved. But sometimes you just need to hit the Golden Arches, maybe because you have a craving that needs to be satiated or it's the only option for miles on a road trip. Turns out that your meal doesn't have to be crazy indulgent and that there are several decently healthy options on the menu. Check out these 11 items below, the next time you find yourself at the drive-thru.
Egg White Delight McMuffin

| McDonald's
Egg White Delight McMuffin
280 calories, 10g fat, 2g fiber, 18g protein
Devour griddled egg whites, a slice of Canadian bacon, sharp white Cheddar, and butter on a toasted English muffin. Let the record show that healthy, actually good breakfast sandwiches do exist. Pair with a hot coffee or iced coffee, or an Americano for a solid start to any day.
Fruit 'N Yogurt Parfait

| McDonald's
Fruit 'N Yogurt Parfait
150 calories, 2g fat, 1g fiber, 4g protein
Not every menu item at McDonald's is stacked with beef or deep-fried, and this snack is proof. Low-fat yogurt, strawberries, blueberries, and a sprinkle of granola are layered together to make a portable treat that comes with a serving of fruit.
Strawberry Banana Smoothie

| McDonald's
Strawberry Banana Smoothie
190 calories, .5g fat, 2g fiber, 2g protein
Stick to your New Year's resolutions and fulfill your cravings all at once with refreshing blended strawberry and banana puree, low fat yogurt, and ice. You get some fruit, but also something sweet at the same time and that is a win-win.
Hamburger

| McDonald's
Hamburger
250 calories, 8g fat, 1g fiber, 13g protein
A good, simple burger that's not a decadent cheat meal is actually pretty easy to find at McDonald's. At 250 calories, the chain's original burger is a solid, and filling choice. The lightly seasoned patty comes topped with pickles, diced onions, and glob of ketchup and mustard for a classic burger experience. Add a slice of melty American cheese and it's only 50 calories more.
Artisan Grilled Chicken Sandwich

| McDonald's
Artisan Grilled Chicken Sandwich
380 calories, 6g fat, 2g fiber, 36g protein
Swapping out fried chicken for grilled is an easy way to make any meal a little healthier. It might be lighter in fat than the fried version, but it isn't lighter in flavor thanks to the vinaigrette dressing and a fluffy artisan roll.
Southwest Grilled Chicken Salad

| McDonald's
Southwest Grilled Chicken Salad
350 calories, 11g fat, 6g fiber, 37g protein
Does it surprise you that one of the best things on the menu is a salad? McDonald's stacks this salad with grilled chicken, black beans, roasted corns, tomatoes, poblano peppers, tortilla strips, and not one but two kinds of cheese. It all gets topped off with a punchy cilantro lime dressing. If you order a side of fries, we promise we won't tell.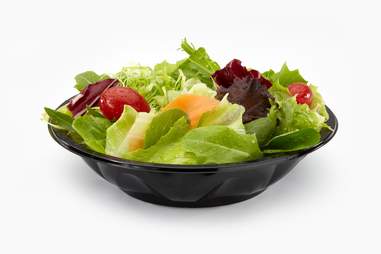 Side Salad

| McDonald's
Side Salad
15 calories, 0g fat, 1g fiber, 1g protein
Add something green and leafy to whatever your meal is with a classic side salad. McDonald's version comes with chopped romaine, baby kale, red lettuce, carrots, grape tomatoes, and a Newman's Own dressing of your choice.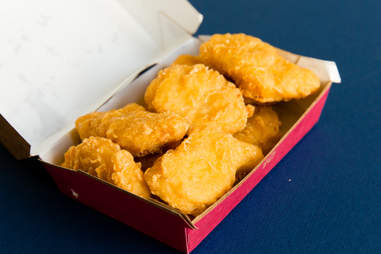 Chicken McNuggets

| Cole Saladino/Thrillist
Chicken McNuggets
180 calories, 11g fat, 1g fiber, 10g protein
Yes, it's okay to order chicken nuggets if you are trying to stay healthy — just try to stick to an order of four and not an order of 20.
Oatmeal Raisin Cookie
140 calories, 5g fat, 1g fiber, 2g protein
Life is better with dessert, and McDonalds' cookies are an excellent option. Go for the soft baked, chewy oatmeal raisin cookie which is just the right size to curb any sweet tooth.
Sign up here for our daily Thrillist email, get Eatmail for more food coverage, and subscribe here for our YouTube channel to get your fix of the best in food/drink/fun.
Alex Erdekian is an editorial assistant at Thrillist who longs for fries day and night.